Cocktails for the Courts
Friday, August 18th, 2023, 6 PM
Thank you to all who attended this year. See you next summer!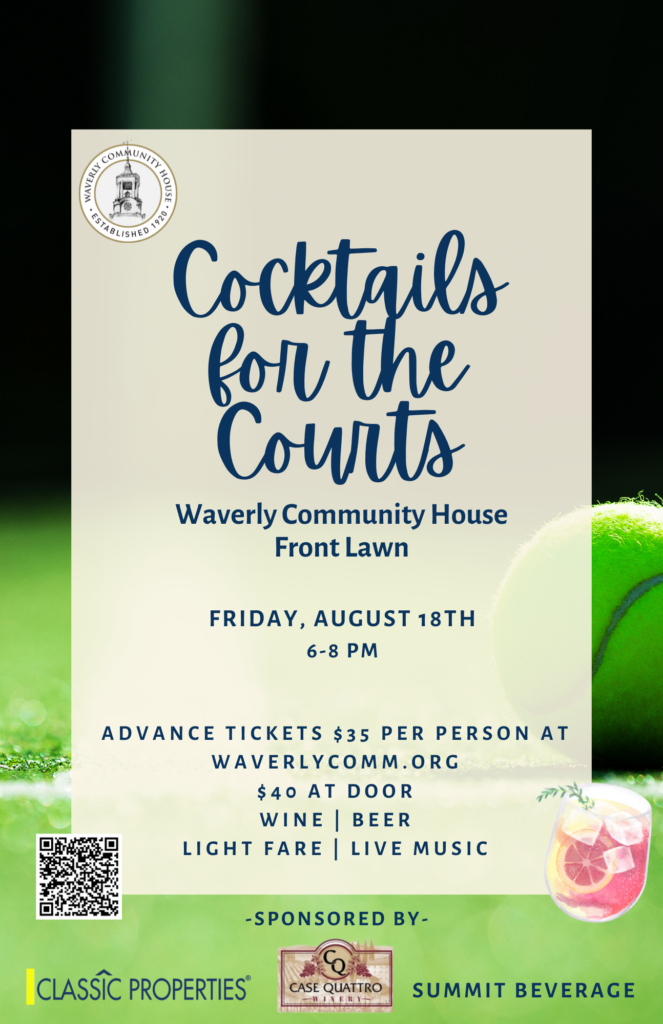 You're invited to Cocktails for the Courts!
Cocktails for the Courts will be held on Friday, August 18th on the Comm's Front Lawn at 6 PM. The event will include live music, wine, beer, and light fare provided by some of the Abington's finest eateries! Tickets are $35 in advance and $40 at the door.
Cocktails for the Courts is a highly-anticipated annual summertime fundraiser at the Waverly Community House in August. This ticketed event is a fantastic opportunity to support the Comm's mission of providing various community educational, recreational, and cultural programs. Guests can sample delicious food from local eateries, sip on expertly crafted cocktails, and enjoy live music on the beautiful back lawn and grounds. This social event provides an ideal setting to mingle with friends and neighbors while contributing to a great cause. Whether you're a long-time supporter of the Waverly Community House or a newcomer, Cocktails for the Courts is a must-attend event that promises an unforgettable evening of fun, philanthropy, and community spirit.
Event sponsors: Classic Properties, Case Quattro Winery, and Summit Beverage
For more information, please contact Special Events and Programs Coordinator Kathy Wright at (570) 586-8191.