Summer and Fall Concert Series
Summer Concert Series will run from July 6th-August 3rd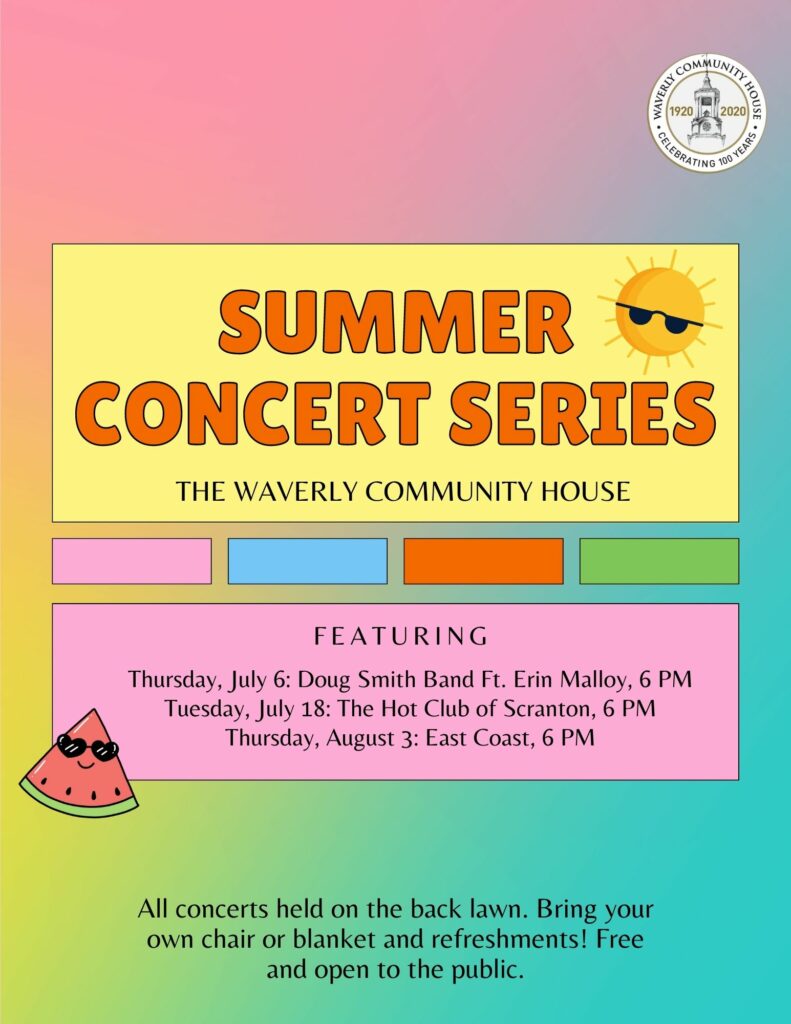 Thursday, July 6th, 6 PM: Doug Smith Band Ft. Erin Malloy
Tuesday, July 18th, 6 PM: The Hot Club of Scranton
Thursday, August 3rd, 6 PM: East Coast
The Waverly Community House is thrilled to announce our upcoming Summer and Fall Concert Series. We are excited to host a lineup of talented musicians who will perform on our beautiful back lawn and provide unforgettable experiences for all who attend.
Our Summer Concert Series will offer a diverse range of musical genres, including jazz, rock, blues, and folk. This season, the concerts will take place on warm summer evenings, providing a perfect opportunity for families and friends to gather together and enjoy great music in a serene outdoor setting.
As the weather cools down, we will transition to our Fall Concert Series, which will feature an equally impressive lineup of musicians. We will offer a mix of indoor and outdoor performances, depending on the weather conditions, providing a comfortable and enjoyable experience for everyone.
Whether you're a music enthusiast or simply enjoy spending time with loved ones, our concert series offers something for everyone. The Waverly Community House provides the perfect venue for these events, with its serene outdoor setting and warm indoor spaces. Join us for a memorable season of music and community at the Waverly Community House.